It's a chance to share News.
A post to recap the past week, showcase books and things we have received and
share news about what is coming up for the week on our blog.
Week in Review
Upcoming Tour Stops
Joya Field's Beneath the Surface
Review and Giveaway
Bridge of Deaths
Excerpt
Kindle Shelf TBR
New Finds and What I Added to Kindle Shelf:
Shades of Gray by Andy Hollowman
Illicit Magic by Camille Chafer
Our Husband by Stephanie Bond
Read and Cleared from the Shelf:
The 7th Victim
My Kindle Shelf current read:
In Deep Voodoo by Stephanie Bond
Next Week's Excitement
Books to be reviewed:
Sandcastle Girls
Crimson Groves
Currently Reading:
Blood Fever
by Karen Marie Moning
End of the Affair
by Graham Greene
Blogging and Book News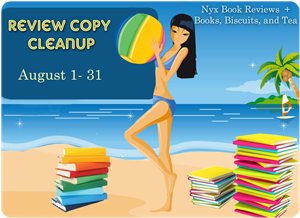 I signed up for Review Copy Clean Up hosted by Vicky at
Books, Biscuits and Tea
and Celine from
Nyx Book Reviews
. During the month of August, the challenge is to clear as many review books from our shelfs whether physical or digital. There will be twitter parties and mini-readathons to help get us motivated and through as many books as we can. Check out their websites and sign up for the fun!