~this meme was inspired in part by ~ In My Mailbox~
It's a chance to share News.
A post to recap the past week, showcase books and things we have received and
share news about what is coming up for the week on our blog.
For all the details and the weekly link, check out
Kimba's website
.
Week in Review
Monday -
Indie Author Review
Tuesday -
Teaser Tuesday
Wednesday -
Review in Rewind
Thursday -
Book Trailer Thursday
Friday -
End of the Affair Review
Saturday -
Shelf Candy Saturday
Giveaway for Crimson Groves is going on through August 6th. Check out the link
here
.
Upcoming Tour Stops This Week
Watch for Review Blitz on Tuesday
New Finds for Kindle
I added quite a few new books to my Kindle Shelf this week. There were a lot of great deals I couldn't pass up. Purchasing for a total of $12.76 I downloaded: Paranormalcy by Kierstin White, Driftwood Cottage by Sherryl Woods, Afraid to Die by Lisa Jackson, and Matched by Ally Condie. Free Downloads were Stolen Fury by Elizabeth Naughton and Seeing Stars by Vanessa Grant.
Next Week's Excitement
Book Review:
In Deep Voodoo
by Stephanie Bond
Author Interview: Robert Downs
Currently Reading:
This week I will be catching up on all my tour books as I have several coming up in August. I will also be reading my Netgalley and Edelweiss books books for the Review Copy Challenge hosted by Nyx Book Reviews and Books, Biscuits, and Tea that begins Wednesday, August 1st.
Blogging and Book News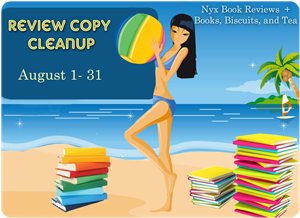 Review Copy Challenge begins August 1st through August 31st. You can sign up through August 15th. Check out the challenge page
here
.
Also
Partners in Crime Virtual Book Tours
is looking for additional hosts to read and review mystery, suspense, and crime.
Rules
:
Must be a fan of our specialty genre (mystery, suspense and crime)
Have a minimum of 100 followers
New host must complete and participate in 2 or more tours before November 30th.
If you are interested, click this link and fill out form. ( https://docs.google.com/spreadsheet/viewform?fromEmail=true&formkey=dHZudjk0dVdPV1QxZjFScDV1UGdmQ3c6MQ )